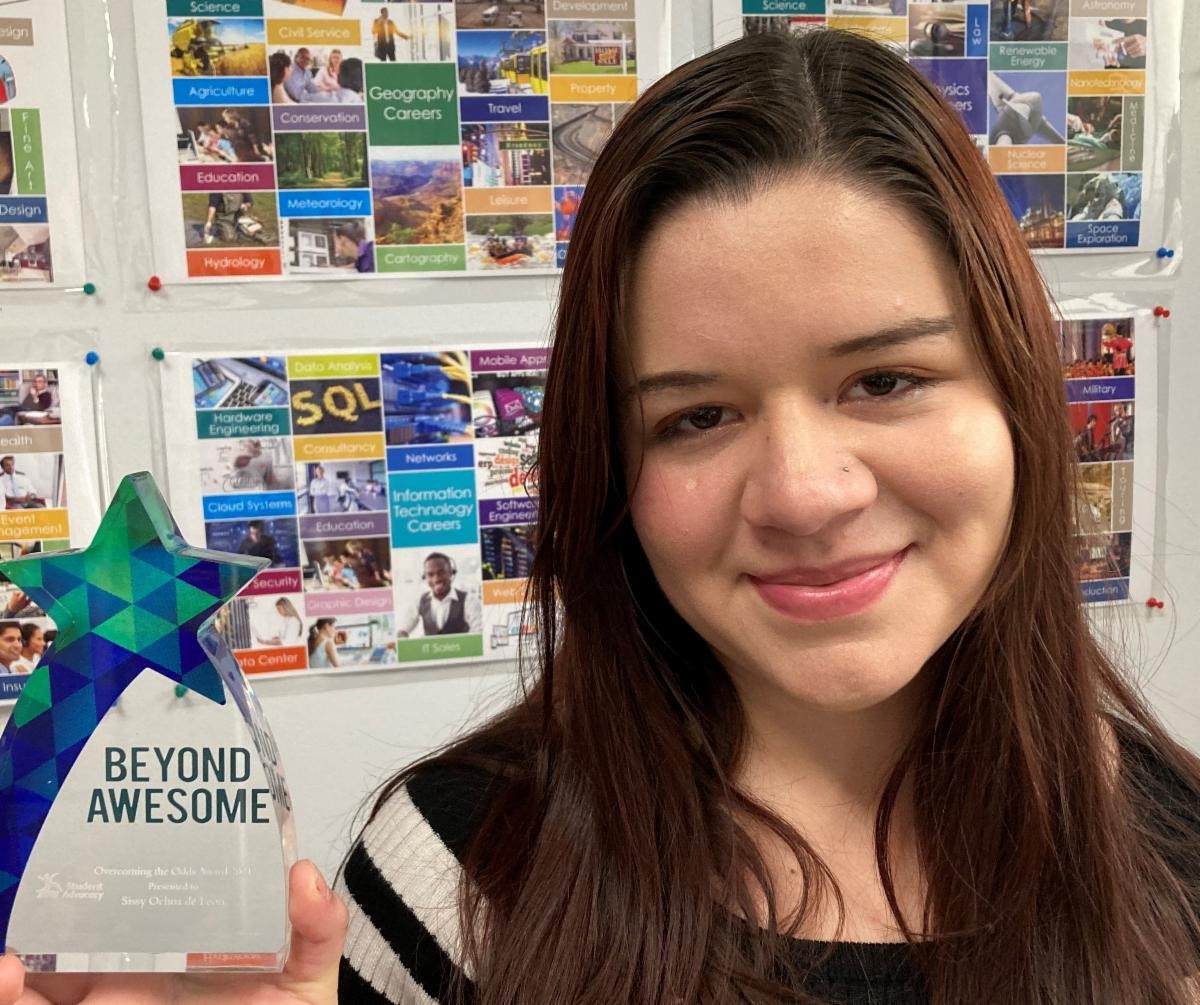 Sissy Ochoa De León proudly displays her Overcoming the Odds award.
Sissy Ochoa De León faced more than her share of challenges when she arrived in New Rochelle from Guatemala at age 7. She had lost her mother three years earlier. Unable to speak English, she was placed in first grade rather than third at Columbus Elementary School.

With her tenacity, and her wisdom in reaching out to teachers, counselors, and others, she pulled herself up and will now graduate in the New Rochelle High School class of 2021 to study psychology at SUNY Purchase.

Earlier this month, her triumph over difficult circumstances was honored with two awards. On May 18, she was one of four honorees receiving the Overcoming the Odds award from the organization Student Advocacy.

The following night, she was awarded the Judith Johnson Opportunity Scholarship, a $4,000 award from the Lower Hudson Council of School Superintendents (LWHCSS).

"It was mostly me thinking about my mom and wanting to make her proud if she were here," she said, explaining her drive to succeed.

She could not have done it, she said, without the support of guides who helped her navigate classes and schools in the City School District of New Rochelle. They include her counselor, Claire Mayer, who met her during her sophomore year and admired her ability to be her own best advocate.

"She was someone who developed really strong relationships with adults at the school and really created a school family for herself to fill in the needs," Mayer said in the video recorded for the Overcoming the Odds ceremony.

Once Ochoa De León entered New Rochelle schools, she worked hard. Within a year, she had mastered English. She was placed in Kaleidoscope, an enrichment program in the elementary schools. She took Latin classes.

When she reached Isaac E. Young Middle School, she skipped sixth grade for seventh. An avid reader, she finds escape in the library, devouring teen literature and romances. In NRHS, she is in the AP literature class.

Through it all, the schools' educators and support staff offered support.

When she was facing difficulties outside school, she could do her homework after school in science teacher Carmen Glenn's class.

In her video message for the ceremony, she thanked the counselor, school psychologist Dr. Joshua Logan and others. Their support, she said, enabled her "to work harder because I knew I had someone by my side."

She also thanked Student Advocacy and congratulated the others who also received the honor. She dedicated the award to her mother.

The host of the Overcoming the Odds ceremony, Katherine Ella Woods, said, "Thank you so much, Sissy, for your dedication to your dreams. I can't tell you how touched I am by your perseverance, by your huge heart, and by your belief in yourself."

White Plains Superintendent Joseph Ricca, outgoing president of LWHCSS, encouraged winners of that organization's scholarships to think about their own resilience – and also what they can do to help solve the world's problems.

"What gift will you be able to bring to that global conversation?" he said.

Ochoa DeLeón already knows. With her psychology studies in college, she will seek a career that will pay forward all that she has received.

"I really want to help kids the way I was helped," she said.